Defining and Measuring Belonging at UCSF 
When staff feel recognized and cared for, when they have opportunities to learn and grow and share their opinions, that creates a sense of belonging.  Belonging is an individual-internal experience; a sense of one's self in relation to a community, organization, or institution. An individual's sense of belonging is supported by the demonstration of inclusion, from being acknowledged when passing in hallways, to seeing one's image reflected in marketing, and tangible opportunities for everyone to participate and contribute.  
UCSF measures this sense of belonging in the UCSF Staff Employee Engagement Survey; managers and supervisors can reference the Belonging Index for their own workgroup in Gallup's platform (see Where and How to Find Your Team's Belonging Index Score 

).  While action is critical at the organization level to support increased belonging across UCSF, managers and supervisors can also influence the sense of belonging within their teams.
Whatever the makeup of your team and wherever your team's sense of belonging may be today, keep in mind our organizational focus on anti-racism and incorporate that into your engagement action plan.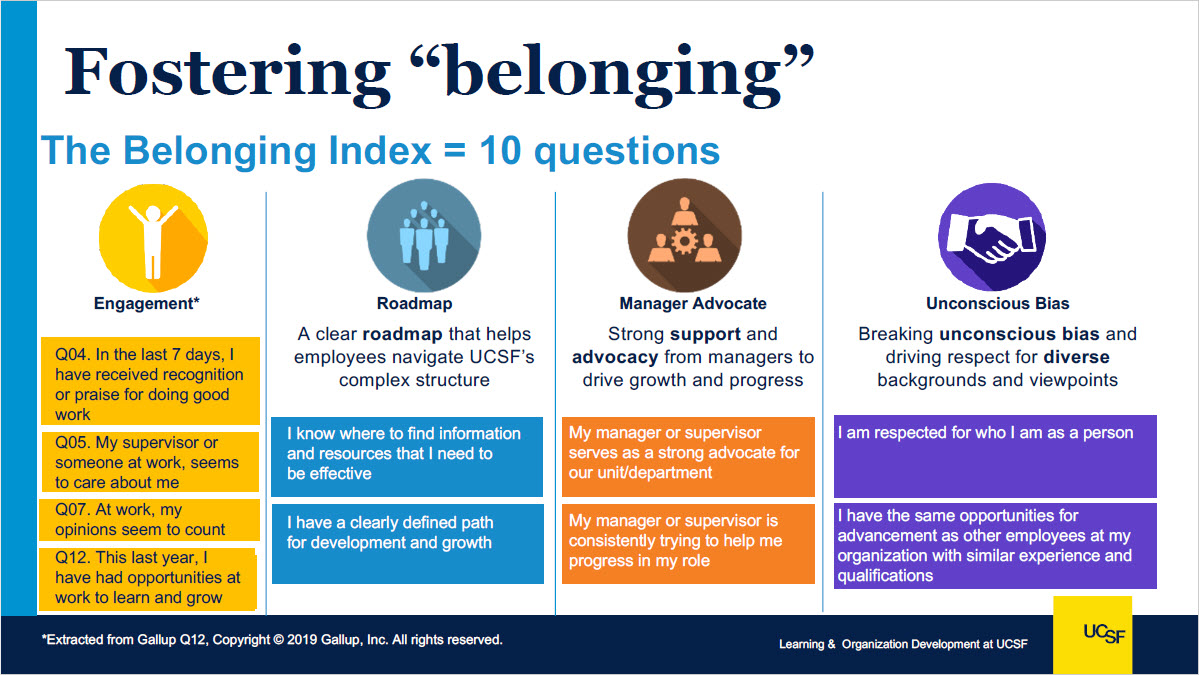 Gallup Engagement Resources for Belonging
Belonging is connected to engagement, and there are specific strategies and tips managers and leaders and can use to address belonging. 
Belonging: Engagement Resource Guide 

Learning & Development Resources
Check out more Engagement resources from Learning & Organization Development.